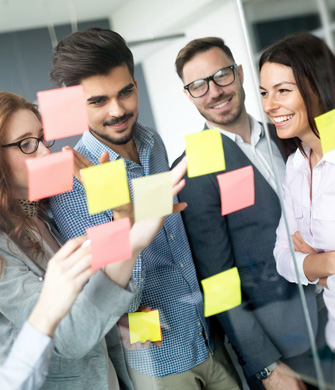 A web application is a computer program that uses a web browser to perform a particular function. It runs on a web server, unlike any other computer‑based software that runs locally on operating systems and needs to be installed. The web application doesn't need to be installed as it can be accessed through a web browser (Google Chrome, Mozilla, etc.). The web application is created by a developer who develops a front end of the web app by coding language such as (HTML, CSS, JavaScript) that ensures the look of the application and the backend is all about using computer program languages ( PHP, Ruby, Python & Java) to ensure that the server, application & database run smoothly. It can also be created by a free CMS likes WordPress that allows you to customize your application as per requirement.
Application development helps to streamline your business so that you can get more work done in less time as having all information or data in one place, helps you to give greater visibility of the business and free up your staff time and allow you to run a report in real‑time. The web application is flexible as it is created to be accessed 24/7 from almost any device or browser. With web application development you have a peach that your customer data is high security as it avoids frauds and browser threats. This application can be easily customized as per business requirements it mainly involves e‑commerce web app development. With web applications, you avoid the hassle of memory usage and installation.
Being one of the known Web application development agency in Navi Mumbai & Mumbai we do market research and analyze your competitors before designing your brand presence. We offer all types of a responsive web app with the help of developers having years of experience. We design your web app according to your aim and vision that you are looking for. We design the perfect layout for your web app. This layout describes how information is categorized on the web app for a better user experience. A web application is a computer program that uses a web browser to perform a particular function. It runs on a web server, unlike any other computer‑based software that runs locally on operating systems and needs to be installed. The web application doesn't need to be installed as it can be accessed through a web browser (Google Chrome, Mozilla, etc.). The web application is created by a developer who develops a front end of the web app by coding language such as (HTML, CSS, JavaScript) that ensures the look of the application and the backend is all about using computer program languages ( PHP, Ruby, Python & Java) to ensure that the server, application & database run smoothly. It can also be created by a free CMS likes WordPress that allows you to customize your application as per requirement.

Application development helps to streamline your business so that you can get more work done in less time as having all information or data in one place, helps you to give greater visibility of the business and free up your staff time and allow you to run a report in real‑time. The web application is flexible as it is created to be accessed 24/7 from almost any device or browser. With web application development you have a peach that your customer data is high security as it avoids frauds and browser threats. This application can be easily customized as per business requirements it mainly involves e‑commerce web app development. With web applications, you avoid the hassle of memory usage and installation.

Being one of the known Web application development agency in Navi Mumbai & Mumbai we do market research and analyze your competitors before designing your brand presence. We offer all types of a responsive web app with the help of developers having years of experience. We design your web app according to your aim and vision that you are looking for. We design the perfect layout for your web app. This layout describes how information is categorized on the web app for a better user experience
Type Of Web App Development
Features of Web App Development
Let's make something great together and let your brand shine
Doing great products for good people
We build sunny warm-toned optimistic brands. Life's too short for dull businesses. Experienced with different poles which can be helpful at different stages of the projects.